Hello and welcome to another Inspiration Challenge!
Let me show you how to create a super colorful layout using Artist Alcohol Markers and Embossing Paste. 

Let's first have a look at the crafting supplies we need.
When I picked my photo for this Inspiration Challenge, I loved the colors of the flower, its foliage, and then the striking colors of the butterfly.
The inspiration colors are a little more muted than those I used in my scrapbook layout but it is an inspiration challenge. It is meant to inspire so don't be afraid to tweak the colors to fit your ideas.
Here are the supplies I used:
How to:
Create a diagonal striped background using the Artist Markers. Alternate colors and fill the whole background. If you like a cleaner look you can limit the coloring to a section of the project.
Onto a palette, mix embossing paste with a couple of drops of Watercolor Brush Markers (Just Green mixed with Sea Forest, Ruby Red, Purple Wine) until you get colors similar to those of the Artist Markers. They can be a little darker or lighter and don't have to match perfectly.
Apply the paste onto the stencil (Square Weave Pattern Stencil) placed on the colored background using a palette. Add each tone on top of the stripe it matches.
Leave to dry.
While the layout is drying, cut out flowers using the Simple Nesting Flowers Layering Die Set. Doodle around the edges to make them stand out. Cut out leaves from some green patterned paper of your choice.
 Stamp some butterflies from the Meadow Reflections Stamp and Die Set onto patterned paper from the Alcohol Ink Backgrounds 6×6 Paper Pack. I picked papers with similar colors to the color combo.
 Cut out the title using the You Are Loved Die.
Put together your scrapbook layout. I created an off-center cluster with my photo and added three butterflies in a triangle around the picture to draw the eye toward it.
TIP:
When creating a very bright scrapbook layout, keep the design simple and use contrasting elements. A black and white photo and white flowers help the design stand out and not get lost in the colorful background.
Supplies: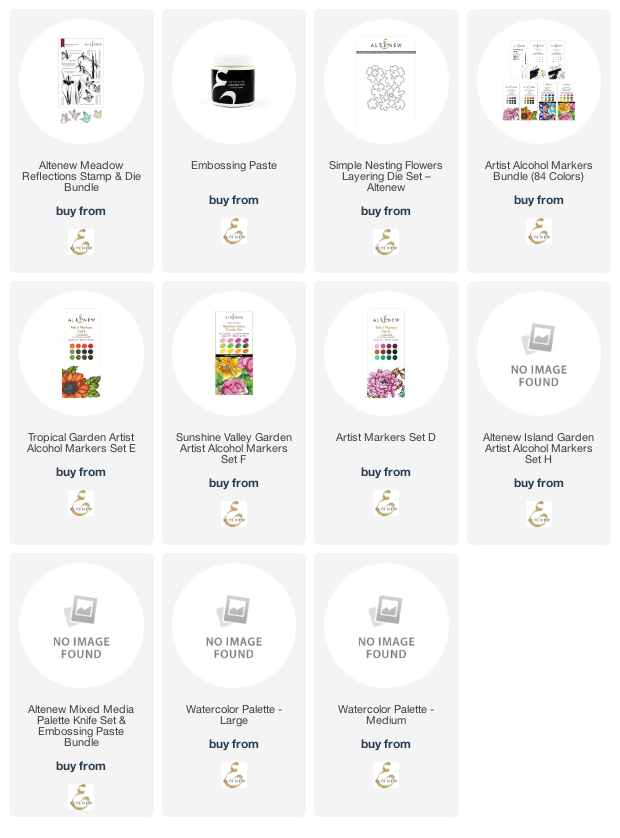 Now it's your turn to create a project inspired by the inspiration picture above; remember, it doesn't have to be a card or a layout! Be as creative as you want!
Altenew products should be the focus, but other companies' products can be used.
Make sure to use our challenge image above in your blog post.
Include a link back to the ALTENEW INSPIRATION CHALLENGE POST.
When uploading your project, make sure you link your entry post, not your entire blog.
You may enter the challenge as many times as you wish!
Challenge ends on June 30, 2022, at 11:55 PM EDT.
After the challenge ends, FOUR WINNERS will be selected. Each will receive a $30 gift certificate to spend at www.altenew.com.

There's MORE! Each winner also gets a chance to receive never-before-seen Altenew products for FREE and join one of our future blog hops as a guest designer. Winners will be announced on July 10, 2022.
More Prizes!
If you use #AltenewChallenge when you share your challenge entry on social media, you are instantly entered into a raffle to win a $15 gift certificate to our online store!
Feel free to use the badge above and let everyone know that you are participating in our Inspiration Challenge!
Good luck and happy crafting!
Please click on the blue button below to link your challenge entries. We cannot wait to see where this month's inspiration takes you!