Hello, crafty friends! This is Ashlea Cornell, and I'm thrilled to be contributing to the July 2020 Inspiration Challenge for Altenew. I've chosen a bit of a different palette than I'm used to, so I'm excited to get started.
The inspirational image I chose to feature comes from wall decor in my home. I love using farmhouse and vintage styled items to decorate my home as I feel that it gives off a comforting and cozy feel. I made sure the colors that I chose reflected that as well, and that's where this month's inspiration comes from.
I decided to focus on the wreath and color palette for my project. The wreath image I used is from the layering stamp set Blossom Wreath. I love that you can choose as many colors as you'd like to add into this wreath and it's a perfect set for any season. I used the colors from the inspirational image which remind me so much of fall. The reddish brown of the woods in the photo are represented here with the blooms in the color Grapevine from Altenew's Crisp Dye Ink line.
I decided to use a blue-ish green for the greenery of the wreath. I think this freshens up the image a bit and lends a little bit more to a summer vibe (seeing as we are currently in mid-July). For this color, I chose Volcano Lake from the Crisp Dye Ink line, and I think it works perfectly to depict the range of colors from the boxwood wreath in the photo.
Finally, for the richer colored browns in the wood pieces in the photo, I chose Mocha for the smaller "blossoms", or what I am now changing to pine cones, on my wreath. These three colors work so wonderfully together to create a muted palette for this image that also feels cozy and warm. To add a little more dimension, like that of the window behind the wreath, I chose to create some score lines on my card front which adds a bit of a background without taking away from the colors or imagery of the design.
I hope that you enjoy my July 2020 Inspiration photo and color palette! I can't wait to see the different ways you choose to express the palette and image. Please plan to submit your challenge projects by 8/9/2020 and we'll announce winners on 8/15/2020.
Thank you, again! See you soon!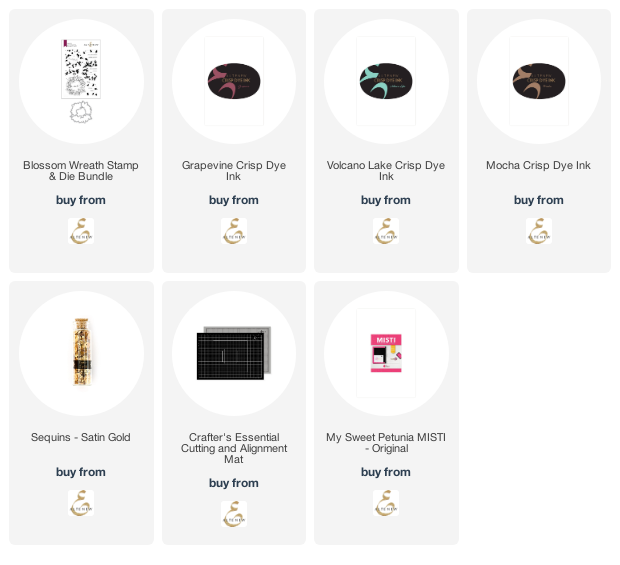 You are invited to the Inlinkz link party!
Check out the winner of this Inspiration Challenge HERE.