Hello, Altenew friends! This is Virginia, and I'm delighted to host the August 2022 Inspiration Challenge with a fun birthday card!
First, you may want to know how this summer-inspired birthday card came about. In the cooler summer evening, I often take walks in my neighborhood. Seeing how the neighbors "dress up" their houses for the summer is always fun. This month's inspiration photo came from a neighbor of mine. The bright Adirondack chairs on the porch (or backyard) are such common sights during summer here in Canada.
Inspired by the warm and happy color combo, I created a simple yet intricate birthday card!
How to Create a Summer-Inspired Birthday Card
The colors reminded me of something sweet… like a CUPCAKE! I decided to stamp one with the All Things Sweet Stamp & Die Bundle. From the light colors to the darkest colors: I used Peach Perfect, Coral Bliss, Marigold, Mocha, and Mahogany Bark. By following the guide on the package, I was able to achieve the colors.
To add details to the cupcake in this birthday card, I took out the Detailed Blending Brushes and inked up the edges at the bottom. This extra step really helped convey that sense of warmth. I also highlighted some dots on top of the cupcake with Artist Alcohol Markers.
I did the same inking treatment with the new One-Go Birthday Greetings Stamp & Die Bundle ( watch out for the release on Aug. 4th!). Thanks to the colors and shading, this made the design much more interesting and cohesive.
For the background, I totally took advantage of the Metallic Cardstock. Not only does the Brushed Rose Gold Metallic Cardstock provide the extra oomph for the design, but they also die cut the intricate Lacy Doily Die like butter!
For the embellishments, I punched out a few tiny circles from Brushed Rose Gold Metallic Cardstock with my old circle hole puncher and used them like sequins.
This card is completed! I am very eager to see what you create with this yummy color combo and can't wait to check them out! Have fun creating your own summer-inspired birthday card!
~SUPPLIES USED~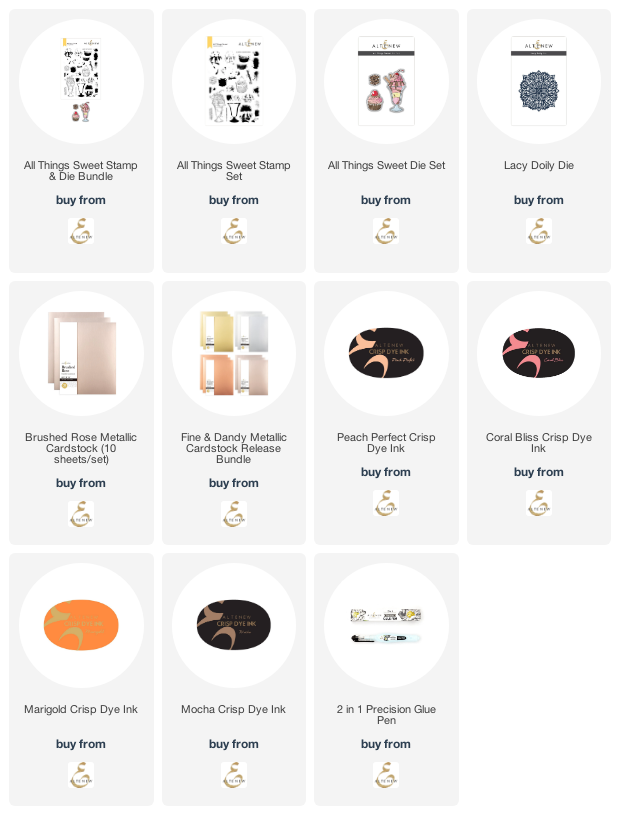 Altenew products should be the focus, but other companies' products can be used.
Make sure to use our challenge image above in your blog post.
Include a link back to the ALTENEW INSPIRATION CHALLENGE POST.
When uploading your project, make sure you link your entry post, not your entire blog.
You may enter the challenge as many times as you wish!
Challenge ends on August 31, 2022, at 11:55 PM EDT.
After the challenge ends, FOUR WINNERS will be selected. Each will receive a $30 gift certificate to spend at www.altenew.com.

There's MORE! Each winner also gets a chance to receive never-before-seen Altenew products for FREE and join one of our future blog hops as a guest designer. Winners will be announced on September 10, 2022.
More Prizes!
If you use #AltenewChallenge when you share your challenge entry on social media, you are instantly entered into a raffle to win a $15 gift certificate to our online store.
Feel free to use the badge above and let everyone know that you are participating in our Inspiration Challenge!
Good luck and happy crafting!
Please click on the blue button below to link your challenge entries. We cannot wait to see where this month's inspiration takes you!