Hi Crafters! It's Nicole Watt, and I'm happy to be hosting the August 2020 Inspiration Challenge. As you know, I like to find inspiration from card sketches (have you seen my series, Sketch Starters with Nicole?) so I added a sketch to the inspiration challenge, giving you a 2-for-1. Use one, use the other, use both! I can't wait to see what you create!
Isn't that fairy adorable? She adorns my mother's herb garden, which is in full bloom this time of year. There are so many shades of blue-green, green, brown, gray and even purple that it was hard to choose a color combo.
Here's the sketch that I'm pairing with the inspiration. Can you see the similarities? The back panel is dotted, indicating a pattern – much like the green floral background in the inspiration photo. Then, there's a large stripe and a square element, similar to the way the fairy stretches from the top to bottom of the image, holding her head.
So, you might think that I went for something soft and pastoral, but NO! I went BOLD! I really wanted to try out the new Creative Cutouts and the color palette had me thinking bold. So, I thought I'd really play off that patterned background panel in the sketch to show you how you can go bold without overdoing it!
Here's the latest installment of Sketch Starters with Nicole on the Altenew YouTube channel.
Bold, not overdone
If you watched the video (woot, woot!), you already know that both cards were pretty simple to put together. It seems like I spent more time sharing info about the sketch and possible color combos than actually making these cards!
This first project lets the Essential Black & White Paper Pack do the heavy lifting. I don't use a lot of patterned paper, but when I do, I almost always use this pack! I toned down the leaf sprigs (cut up from the Wreath Creative Cutouts) with some ink smooshing in Industrial Diamond.
The sentiment really pops with a white shadow behind the Emerald diecut. Both of these pictures show the Mountain Mist cardstock strip, but I share an option to create a Minty Mint strip in the video.
Moroccan Mosaic for a trellis look
The second card in the duo uses a similar color palette, swapping out the Industrial Diamond ink for a piece of Dark Gray cardstock. I went for the "bam!" (Emeril Lagasse style) with that piece of the Moroccan Mosaic Creative Cutout right over the top of the gray background. If you thought these cutouts were just for scrapbookers, think again!
This time, instead of hinting at the square elements, I went literal with an Emerald cardstock strip and the sentiment in Mountain Mist. I used a few sentiments from Wild Flora to create a longer sentiment that looked nice in a square format. Some freehand lines with a journaling pen really complete the look.
Do you have problems lining up a coordinating die with a stamped image? Especially when there's thin parts like a flower stem? I have a really cool method in the Sketch Starter video that you'll want to check out that might help with that perfect placement you've been searching for!
Ready, Set, Create!
With an inspiration photo, color combo AND a sketch, you've got loads of possibilities for your next project. Don't forget to snap a pic and link up with this month's Challenge + Giveaway! I'm sure you'd love to win a gift certificate to Altenew!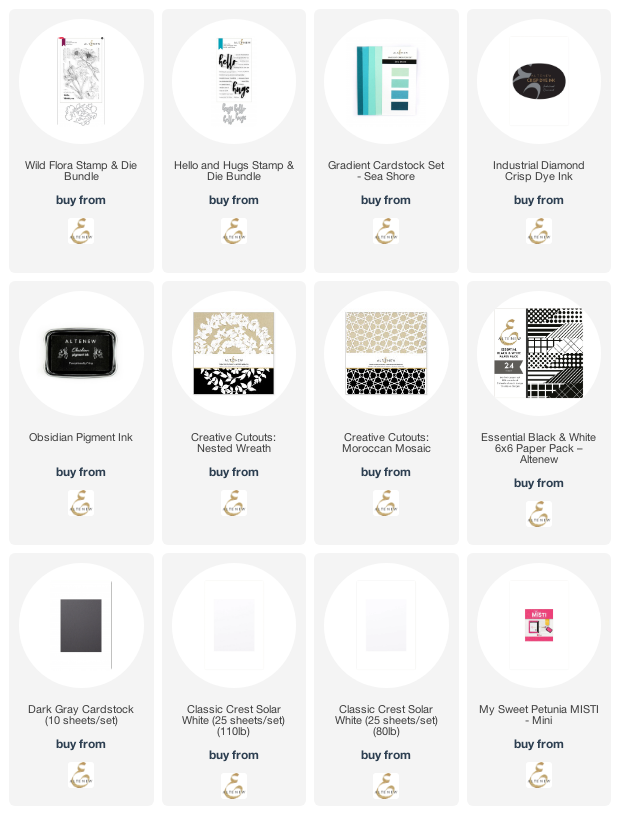 Altenew products should be the focus, but other companies' products can be used.
Make sure to use our challenge image above in your blog post.
Include a link back to the ALTENEW INSPIRATION CHALLENGE POST.
When uploading your project, make sure you link your entry post, not your entire blog.
You may enter as many times as you wish!
Challenge ends on August 31st, 2020, at 11:55 PM EDT.

After the challenge ends, FOUR WINNERS will be selected. Each will receive a $30 gift certificate to spend at www.altenew.com.
Winners will be announced on 09/10/2020.
WAIT – there's more!
If you use #AltenewChallenge when you share your challenge entry on social media, you are instantly entered into a raffle to win a $15 gift certificate to our online store!
Feel free to use the banner above and let everyone know that you are participating in our Inspiration Challenge!
Please click on the blue button below to link your challenge entries. We cannot wait to see where this month's inspiration takes you!
Good luck and happy crafting!

You are invited to the Inlinkz link party!