Do you love nesting dies? I love having a wide variety of sizes available to me, and even more so if they're in a neat shape like the new Ornate Nesting Dies! One of my favorite ways to use nesting dies is to create frames that can be filled with shakers or intricate cover plate die cuts, accented with floral die cuts, or even used as a focal point. I have a two-fer for you today, with one card created using the Ornate Nesting Dies, and one using the leftovers from the frame. Let's get started with the details!
I kept things simple with a gray-on-gray color scheme using pops of shocking pink and crisp white for contrast. Using dark neutral backgrounds with bright colors is one of my favorite ways to make a super impactful card!
For my first project, I nestled two of the Ornate Nesting Dies together and ran them through my die-cut machine to create this dark gray frame. I also die cut a panel of shocking pink cardstock using the Dainty Blooms Cover Plate die, then die cut that panel using the larger of the two Ornate Nesting Dies to create a perfect, intricate background to place inside the window of my frame!
To allow the detailed die cut to really pop, I lightly blended Lava Rock ink around the edges of an A2 panel of cardstock in the same shade of gray cardstock, then splattered it with white metallic watercolor from the Metallic Watercolor 14 Pan palette. I popped up the Ornate Nesting frame, accented with the delicate shocking pink die-cut window, using Instant Dimension Foam Tape to give it a little extra height. Finally, I added a dimensional die-cut greeting, which I created by die-cutting the Fancy Miss You die twice from white cardstock and adhering the two die cuts together with liquid adhesive.
My second card uses the leftover interior die cut that was created when I cut my frame for the first card! I kept the color palette the same, adding some pops of shocking pink and emerald green, created by die-cutting flowers and foliage from the Sweet Blooms die set. I also die cut a Fancy For You die cut from more crisp white cardstock, which I adhered at an angle on the leftover Ornate Nesting Die cut. I arranged the die-cut flowers around the die-cut greeting, adhering them with a mixture of foam adhesive and liquid adhesive for lots of dimensions.
For the card base, I ran another panel of dark gray cardstock through my die-cut machine using the Vintage Tile 3D Embossing Folder. I lightly blended around the edge with some more Lava Rock ink to enhance the pattern of the embossing a bit. I popped up the focal point Ornate Nesting Die die cut with some more foam tape. So much dimension and texture on this card!!
Well, that's all for my projects today. I hope you'll take a peek at the Ornate Nesting Dies; they are super versatile and sure to become a staple at your craft desk! Thanks so much for stopping by today, and have a marvelous day!
Supplies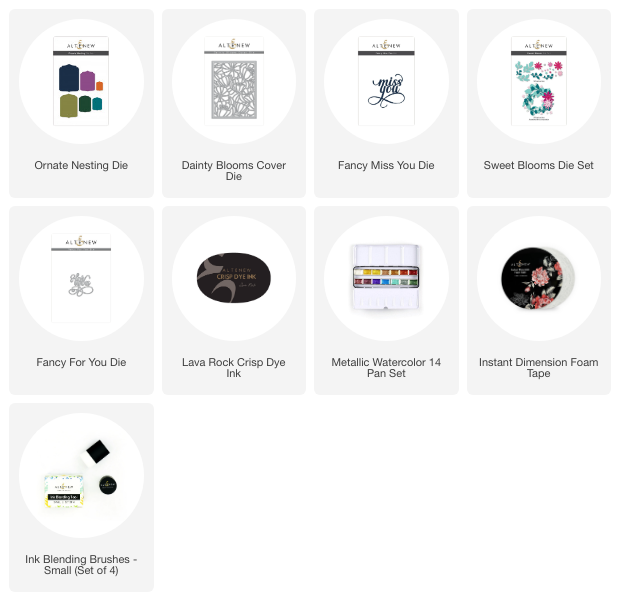 Check out other cards made with the new Ornate Nesting Dies. 
What do you think of this inspiration? Let us know in the comments below.