Hello everyone and welcome to the Altenew Educator "Style it with Stencils" Blog Hop and Linky Party! So glad that you stopped by the blog today because we have tons of inspiration to share with you! Before I jump onto the details about my project, let me share with you a bit of information about the Altenew Educator Certification Program (AECP).
AECP was started because Altenew saw how crafters wanted to turn their hobby into a profession and earn from it. AECP is based on three levels. The first two levels comprise of ten courses each. And the third level has five courses. Each level has a final challenge that the participant has to pass in order to move to the next level. The last level's final challenge is a mock-workshop observed by Virginia Lu, Nicole Picadura, and me. Through these courses and challenges, you learn various techniques and brush up on the ones you already know. Not only this, but we also have specially curated photography guidelines and tips on how to make your projects aesthetically pleasing.
Once you pass, you receive a certification from Altenew. Let me tell you some of the perks of an Altenew Certified Educator; they get an exclusive preview of Altenew products for their upcoming workshops, discounts on products, increased affiliate compensation, sponsorship, and support (we help you spread the word about your workshops), and a lot more!
If you want to know more about the program, you will find the FAQ section here. And if you want to apply, click HERE.
Below is a comprehensive graphic to show you everything precisely.
Let's jump on to what I have to share today. It's a peek into the upcoming stencil release actually *winks*. For my project, I used the Mighty Corners Stencil, which will be released later this week. I do have a video for this project, just scroll down a bit if you want to skip reading and get to watching!
I started by securing the stencil onto the A2 Watercolor Cardstock, which I cut down to 3.75″ x 5.25″. Next, through the stencil, I traced the pattern. Then, with a Jet Black Artist Marker, I filled in the pattern.
After this, I applied water onto the panel in a triangular fashion, following the design. Then I dropped in color going from purple, pink, orange, yellow, green, teal, and blue. The watercolors used here are from the Artists' Watercolor Pan Set.
The next step was to add splatters and I added splatters of the same colors used. You will be able to understand this better if you watch the video. It is really simple, easy to follow, and recreate.
I didn't want to take away from the design and the color so I just die cut the Simply Thank You Die in the same watercolor cardstock and also in silver foil cardstock. Next, I adhered the two pieces together but kept the silver one slightly offset to the white layer.
I also die cut one of the butterflies from the Mix and Match Mariposa Die Set in vellum and silver foil cardstock. Then I adhered the vellum die-cut over the silver foil one as to dim the shine of the silver foil cardstock and adhered it with liquid adhesive.
To finish, I added a few sequins.
You can watch the video below or on YouTube.
Prizes
Altenew is giving away a $20 gift certificate to 5 lucky winners! Please leave a comment here on the Altenew Card Blog by 9/19/2020 for a chance to win. 
We'll also draw a winner to receive a $15 Altenew gift certificate from the comments left on each designer's blog on the blog hop list below. All winners will be announced on the Altenew Winners Page on 9/22/2020.
There's MORE! We will pick 2 of our favorite handmade creations from those who joined the linky party and they will each receive a $15 Altenew gift certificate!
Blog Hop
Our lovely Educators have made amazing projects to share with you. The next stop on the hop is the talented Educator and Video Design Team Member Amber Rain Davis.
For your convenience, you will find the complete hop list below.
Hop List
This is no ordinary hop! We want you to join in on the fun as well. All you have to do is link up your creations based on the theme of the hop, which is, "Style it with Stencils". So what are you waiting for?! Grab your stencils and get creating! Please click on the blue button below to share your projects for a chance to win one of two $15 Altenew gift certificates! The link party ends on 9/19/2020.
You are invited to the Inlinkz link party!
https://fresh.inlinkz.com/js/widget/load.js?id=9c9b10dbdecdfb9300b0

~SUPPLIES~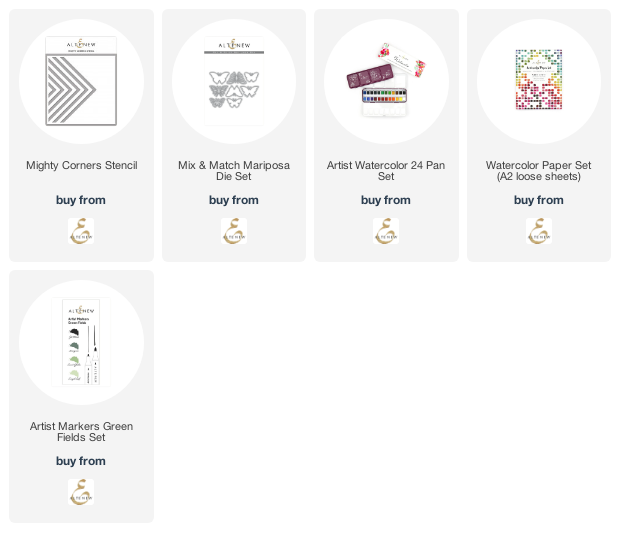 https://linkdeli.com/widget.js?id=f5e8378456858c916708