Hi there Altenew friends, it's Jaycee! The Stampwheel makes layering stamps easier than ever. Did you know you can take any of your loved crafting items and turn them into simple templates?  
Layering stamps are a type of stamp set that includes multiple stamps that can be layered on top of each other to create a three-dimensional image. These stamps are designed to work together, with each layer creating a different aspect of the image. For example, a layering stamp set for a flower might include one stamp for the center, one for the petals, and one for the leaves.
Using layering stamps is a great way to add texture, detail, and depth to your designs. They can be used to create realistic images that look like they were hand-painted or drawn. But using layering stamps can be intimidating, especially if you've never used them before. Here are some tips and tricks to help you get started:
Layering Stamp Positioning Tool
The rotating mechanism of the Stampwheel is essential for layering stamps. This tool allows you to stamp each layer in exactly the same position, ensuring that your layers line up perfectly.
Layering Inks for Crisp Impressions
When using layering stamps, it's important to choose your inks carefully. Dye inks work best, as they dry quickly and don't smudge. The Fresh Dye Inks are an excellent and new addition to your stash because they level beautifully and the colors are vibrant. I used the Red Sunset and Sweet Dreams bundles to get my color palette.
Build Your Layers
Start with the bottom layer of your stamp set and work your way up. Stamp each layer in the same position with the Stampwheel to ensure that everything lines up perfectly. If you're using multiple colors, clean your stamp between each layer to avoid cross-contamination.
Add Finishing Touches
Once you've stamped all your layers, you can add finishing touches to your design. Add a sentiment, embellishments, or even some hand-drawn details. The possibilities are endless with Altenew's Ensembles. The ensembles are meant to work together such as additional dies and embossing folders.
Layering stamps are a great way to add depth and dimension to your crafting projects. With a little practice and some experimentation, you'll be able to create beautiful designs that look like they were hand-painted. So go ahead and give layering stamps a try – you won't be disappointed!
Supply List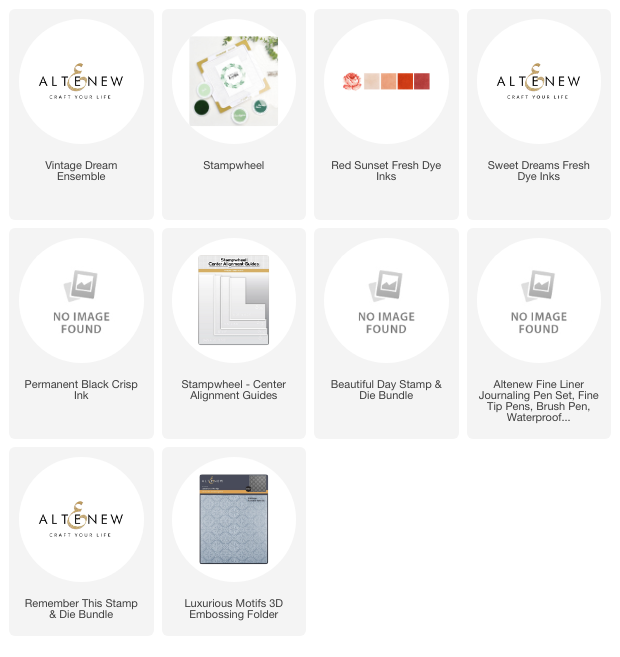 Have you ever tried these techniques in layering stamps? Tell us about your experience down in the comment below! Also, check out these awesome cards using the Vintage Dream Ensembles