Hi there Altenew friends, it's Jaycee. If you're a fan of contemporary card-making and stamping, then you're about to be blown away by the Hibiscus Motif Complete Bundle from Altenew. This set is perfect for creating a modern take on the Art Nouveau style inspired by the posters and commercial art by Alphonse Mucha.
The Hibiscus Motif Complete Bundle contains a stamp set, simple coloring stencil, and coordinating die set. It's a complete bundle that can be extended as part of the full Aesthetic Flora Ensemble. The stamp set includes the beautifully detailed hibiscus with bold outlines, as well as the book corner motifs with organic stained glass type illustrations.
Art Nouveau Backgrounds
To start, we're going to make the background of the card using the Ornate Cover Die. This die is ornate and organic in shape, with a symmetrical design that is characteristic of Art Nouveau. Once you've die-cut it out of white cardstock, use the Blue Mountains Fresh Dye Ink bundle to make colored cardstock. Start with the lighter shade and work your way up to the darker, so you don't have to clean the blending tool between colors.
Next, we'll create the focal elements for the card. Study the Mucha portrait posters and notice how the focal subject is always well defined and framed. We're using the large hibiscus image in the Hibiscus Motif Stamp Set as our focal subject, along with the book corner motifs to frame it. Use Permanent Black Crisp Dye Ink to stamp the images on white cardstock, then use the coordinating detail layer stamps and simple coloring stencil to color them in.
Art Nouveau Focal Elements
Finally, we'll add movement and asymmetry to the card by using the Pen Sketched Silhouettes set. Color a few of the solid images in Lemonade Stand and use a Mini Ink Blending Tool to deepen the flower centers with Tangerine Dream. Extend a black margin around the stamped images using a Jet Black Artist Marker, then use coordinating dies to cut the flower clusters.
Art Nouveau Embellishments
Assemble the card by gluing the Ornate Cover Die background to a folded note card base, arrange the Pen Sketched Silhouette die-cut flowers in a linear pattern, then foam mount the hibiscus and book corners in an exact center arrangement. Finish with a white heat embossed Hello sentiment strip and some sequins to add a flowy nature to the bouquet. Overall, this card is exquisite and a true tribute to the Art Nouveau movement.
Make sure to check out what my crafty friends made with the Hibiscus Motif Complete Bundle and the Aesthetic Flora Ensemble below! I'll see you again very soon!
~ Supply List ~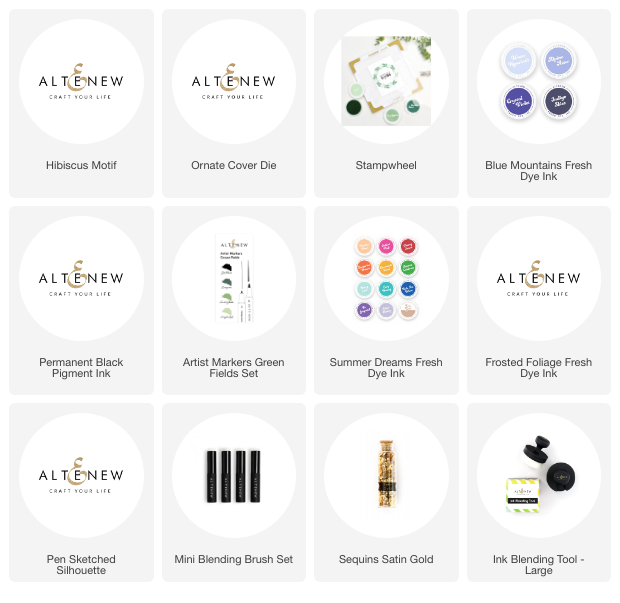 Check out these other projects using this product.